Bottle delivered with movable nozzle

EGR valve decarbonising  (instructions for use).

Decarbonised particulate filter (FAP) (instructions for use).

Passing the gas control at the ITV (MOT)  (instructions for use).
Degreasing of the injection system (consult).

Eco 10.000 is an effective anti-freeze for extreme cold diesel 125 ml for 50 litres, add more if necessary.
Capable of dissolving fuel residues, dirt and carbon deposits up to 400 times its weight under pressure. 
Induces charcoal combustion (FAP and EGR valve).
Radically reduces contamination (success with MOT gases).
Absorbs water up to 15% of its volume.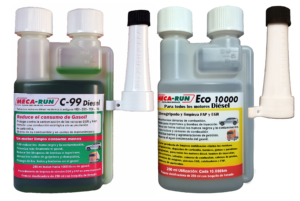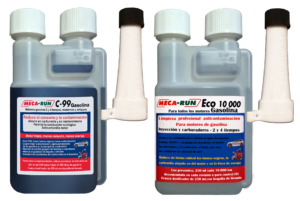 Incredible video of engine decarbonisation and EGR valve, with pollutant gas control on an approved bench.
Dosage :
Automobile  : 250 ml of eco 10.000 in 50 litres + 15 ml of C 99 to remove condensed water from the reservoir
Trucks :  2.5 litres for 500 litres of diesel every 30 000 kms.
Agriculture : 0.5 litre for 100 litres of agricultural diesel or fuel oil
Marina : 0,5 litre for 100 litres. - public works machinery : 0.5 litre for 100 litres.
Motoculture and gardening : 50 ml for 10 litres of petrol
Cleaning : gentle action in tanks and vats, very efficient and powerful under pressure (injection)
Removes condensed water in the tank.
Reminder:  The compression of the diesel by the pump and its use as a coolant causes a very high rise in temperature.  The excess diesel returns very hot to the tank, where it reheats the rest of the fuel and generates condensation and water accumulation, with the consequent accumulation of mud that will end up being harmful to the engine.
Eco 10 000 absorbs water up to 15 % of its volume, making it the best solution for extreme cold.

Bacteriostatic (antibacterial) action.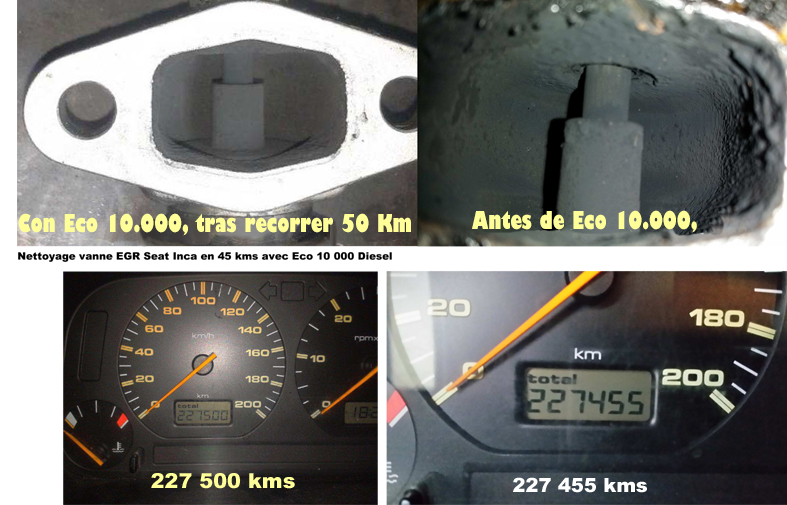 Weekly monitoring of the evolution of the decarbonisation of an EGR valve in a Seat Inca.  
Decarbonising of the FAP and EGR valve : Add one Eco 10 000 250 ml + 15 ml of C 99 for 25 / 30 litres of fuel), Perform decarbonisation on the road for 70 / 100 km at cruising speed and slightly higher rpm.
If you are not satisfied, we will refund your money*. 
**If, after using a bottle of Eco 10 000 250 ml or C 99 that treats up to 1 000 litres of fuel or  a Mecarun decarbonisation treatment (see the corresponding page), you have to pass the ITV test again, replace the EGR valve or FAP particulate filter: In this case Hi-Tec International will reimburse* your bottle of C 99 250 ml or Eco 10 000 250 ml. * In this case, the vehicle must be fitted with a clean air filter and a fresh diesel filter. * Condition valid only for online orders or orders placed through an authorised sales outlet, for one bottle only and without postage and packaging.
* You must have the purchase invoice and, if applicable, the invoice for the replacement of the EGR or FAP, as well as a copy of the rejection of the pollutant gas control from the ITV.
Removes condensed water from the fuel tank.
Bacteriostatic (antibacterial) action.
Degreasing of injection pump and injectors

Degreasing of an injection system with Mecarun Eco 10,000 diesel in just a few minutes. As the pump is not able to suck the diesel oil in an on-site operation, additional inlet pressure is applied with a pump in series. Eco 10,000 is capable of dissolving dirt up to 400 times its weight. Eco 10,000 does not sting the tappets, as its flash point is higher than that of diesel.
Decarbonisation of a particulate filter. Before and after treatment.
Your best friend for the winter: Eco 10 000 Diesel

Eco 10 000 : prevents the water in the tank from freezing.
Oil companies are often wrongly blamed for the poor quality of extreme cold diesel fuel when it is treated with paraffin waxes to prevent freezing.
In reality, the problem is caused by condensed water which, when it freezes, makes it difficult for fuel to enter the engine's fuel system.

Reminder:  As the diesel oil is compressed by the injection pump and used as a heat sink, it reaches a high temperature before being returned to the tank where, due to the temperature shock effect, condensed water is generated and where the fungi and bacteria responsible for the sludge which reduces the calorific value of the fuel and ultimately damages the engine, breed.
Eco 10 000 absorbs up to 15 % of the water volume. It is the best solution to prevent extreme cold.
Solution for not having the vehicle blocked during extreme cold:
125 ml for 50 litres of €co 10.000 diesel (if necessary, increase the dosage).

Another important function of Eco 10.000 Diesel is that it prevents the build-up of bacteria and sludge in the tank, cleans the injectors and the injection pump, decarbonises the engine, the fap and the EGR valve.
Super economical: available in 250 ml and in 1, 5, 30, 60 and 210 litres.
EEco 10.000 Diesel -- Eco 10.000 Petrol
Lubricates injectors and injection pump
Cleans injection and carburettor systems
Isolates bacteria from diesel fuel (see bottom of page).
Watch the video Eco 10 000 injector degreasing on friction bench
Use every 10,000 km or at the beginning of winter
Treatment of multifunctional fuel systems in 2-stroke and 4-stroke petrol engines, diesel engines and injection systems
Protects the fuel, injection and carburettor systems, tank, lines, valves and combustion chamber by removing impurities and combustion residues, carbon, gums and varnishes, as well as paraffins and oxidised oil in the breather.
Modern engines with electronic management are more sensitive and more easily misadjusted. Imperfect combustion leads to acceleration gaps, excess fuel consumption, loss of power, black smoke and environmental pollution.
A charred EGR valve and a clogged Fap (particulate filter) are the most immediate and visible consequences.
It's up to you not to let the money go down the drain.
Eco 10 000 every 10 000 kms or before passing the MOT: clean the injection system, valves, turbo, intake, EGR, air and lambda sensors, etc...
Eco 10 000 solves severe carbonisation. Regular use of C 99 helps to keep the engine clean and achieves significant fuel savings.
Eco 10 000 removes condensed water from the tank.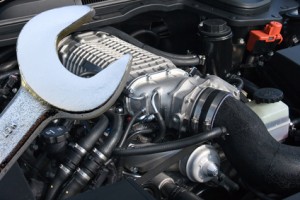 Eco 10 000 saves maintenance operations
| | |
| --- | --- |
| | |
| Before cleaning with Eco 10.000 | After cleaning with Eco 10,000 |
.

Extreme cold diesel oil : see Eco 10 000 solution
In order for the Mecarun anti-cryptogam to come into contact with the (oval) bacteria and isolate them, it is necessary to fractionate the water by mixing the Eco 10,000 with the fuel in the tank.