- Metal surface treatment for engines, gearboxes, bridges and gearboxes.
- Treats all metal surfaces subject to friction.
- Surface treatment for all engine lubrication, power steering, manual and automatic gearboxes, bearings and chains.
- Treats all metal surfaces subject to friction in hydraulics, industry, machining and renewable energies.
Operation of P 18
- Ensures anti-wear function and high pressure lubrication, before the creation of the oil film.
- Dramatically reduces engine wear during start-up (the first 500-1000 rpm).
- Reduces ring vibrations and increases compression.
- Extends the life of mechanical parts
- Hyperlubrication of rings, cylinders, piston shaft, turbo, connecting rod, connecting rod bearing, bearing, camshaft, camshaft and hydraulic lifters.
- Hyperlubrication of bearings and teeth in gearboxes and bridges.
- Anti-breakage and anti-wear treatment for racing engines (see dosage).
---
Metering for 4-stroke engines
4 % of the oil volume or 10 % of the engine displacement (competition 6%).
At the following oil changes: 1/2 dose only.
Metering for 2-stroke engines
2 % of the volume of the 2-stroke oil (e.g. 20 ml of P 18 in one litre of 2-stroke oil).
Dosage for gearbox oil, bridges, gearboxes, gearboxes
4 % of the volume of the oil (competition 6 %).
Metering for hydraulic oil (public works, agriculture ...).
2 % of the volume of the oil
Other applications
- Degreasing and treatment of injectors and injection pumps (4% at the inlet of the feed circuit).
- Machining and numerical control (use in cutting oil or direct application).
- Surface treatment on metal, wood or stone cutting tools (drills and cutting discs).
P 18 in competition
https://youtu.be/Xwskf9Kr_MU
P 18 : Híbridos y Stop and Start 
Hybrid vehicles

and those equipped with the

Stop and Start

have great advantages when operating with P18

Engines always generate more carbon at start-up.

C 99 limits these effects in new or older vehicles and contributes to lower fuel consumption (see anti-pollution testimonials).
The first cause of engine wear

is generated in the first 500 / 1,000 rpm, during start-up.
1 - At each start-up, Mecarun P18 protects the engine against wear and seizure, as it does in racing engines, at critical moments (rupture of the lubrication film). It allows a significant reduction of the oil temperature and of the friction energy generated by the deposits of rubber, varnish and oxidised oil (contributes to fuel savings).
2 - P18 reduces vibrations (second cause of wear). The engine runs better and is quieter.
3 - P18 is combined with the metal of rings, pistons, cylinders, camshafts, connecting rods, etc....
P18 fuses with the crystalline layer of the metal, allowing the metallics to interpose themselves in the friction between engine parts, considerably reducing wear.
The investment in the P18 is more than recouped, due to savings in consumption and maintenance operations.
Mecarun P18 is recommended for all 2 and 4-stroke engines, petrol or diesel, for gearboxes, axles, for degreasing injectors and hydraulic tappets and to prevent seizure of racing engines. Le P 18 is suitable for passenger cars and commercial vehicles, for transport vehicles, for agriculture, industry, marine ...
.
Lubricating the lower engine of your ethanol-powered car. See how to protect your vehicle when switching from petrol to ethanol.
Watch this video on how to protect your engine.
Incredible anti-wear test carried out with Mecarun P 18 on diesel-powered charter vessels.
Company: INTER CROISIERES  Location de Vedettes Fluviales
Pont de Sireuil 16440 SIREUIL
Annual overhaul of outboards, Volvo Penta 2 and 3 cylinder turbo engine 2000 series.
Here, 6 engines: 2 treated from the beginning with Mecarun and 4 untreated.
The 4 engines without Mecarun show significant scoring on the top of the cylinders (wear of 9 and 12 hundredths of a mm)..
All 6 engines had been ground on the same date. The 2 treated with Mecarun P18 still show traces of machining. The wear measured with the dial gauge is considered negligible compared to the other engines.
P 18 extends the life of the engine, gearbox, power steering, turbo, reduction gears and axles.
Application: 4 - 6% of the oil volume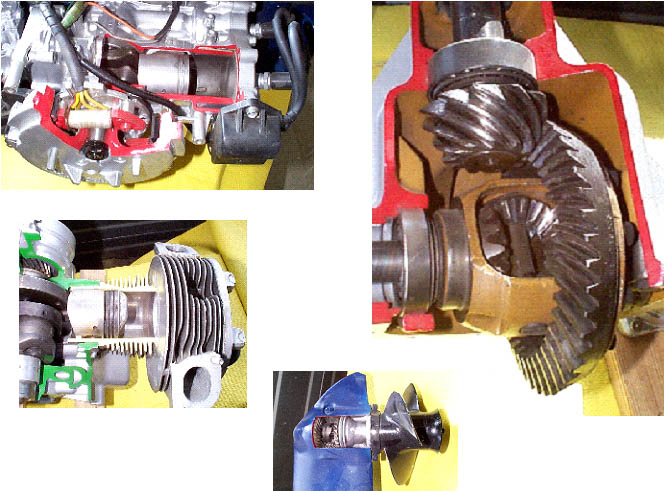 Le P 18 augmente la durée de vie des moteurs, boîtes de vitesses et Ponts
Moteur 4 temps : utilisation à 4% du volume d'huile
Compétition: jusqu'à 6% du volume d'huile moteur
Moteur très encrassé: faire un Flush moteur de 500 ml avant la vidange
Mecarun P18 is a permanent treatment of the metal surface
Mecarun P18 follows the reaction of synthetic hydrocarbon metallizers. At the beginning of its manufacturing process, Mecarun P18 is a blend of EP (Extreme-Pressure) metallics composed of natural anti-corrosion ingredients, anti-wear components and antioxidants.
It is equally important to know what Mecarun P18 does not contain. It does not contain chlorinated paraffins, PTFE (Teflon), fluorine, solvents, viscosity optimisers, molybdenum disulphide, zinc, sulphur, graphite or any other solids.
SUMMARY : Le Méca-Run P18 augmente le rendement, la durée de vie et réduit les coûts de maintenance non prévus des moteurs et boîtes de vitesses. Le Mecarun P18 reduces the energy lost in friction and contributes to protecting the environment.
Mecarun P18 is a state-of-the-art permanent anti-friction surface treatment.
Metasliding agents are carried by the oil and adhere to the carbon of the metal, modifying the amorphous layer of the metal (crystalline layer). The layer resulting from the P18 treatment does not exceed one micron, although it maintains its super-sliding and anti-wear function.  The P18 particles in suspension will always make up for the possible detachment of molecules from the layer created when it is subjected to certain circumstantial cuts, so that the engine elements will always remain new..
Benefits of Mecarun P18 in the engine
- Permanent sliding of any metal surface (even without oil pressure).
- Reduced operating temperature at all friction points.
- Rise in compressions as a result of reduced ring vibrations.
- Reduction of oxidation, thermal decomposition, corrosion and wear.
- Low energy demand in hot and cold start-up and under all weather conditions.
- It does not impair the viscosity and does not age the lubricant.
- It has a long-lasting effect.
- Longer adhesion to the metal between oil changes.
- Maintains its protection even when the oil loses its properties or is cut off by the presence of water
- Prevents deposits, combustion residues and abrasive particles from adhering to treated surfaces.
- Reduction of the number of abrasive particulate pollutants in the exhaust, for all types of engines.
Mecarun, P18, anti-wear, antifriction, engine, engine wear, engine breakage, competition